POLYGLYCOLID (PHA) - Analogue Vicryl / Vicryl
Other analogues: Polysorb, Dexon-2, PGA-Resorba Safila, Marlin
(synthetic, braided coated, resorption period - medium)
Sizes: USP 10 / 0- USP 3
Shelf life: 5 years.
Color: purple, white.
Composition: polyglycolide, coated with polycaprolactone and calcium stearate.
After 14 days, -65% of the initial strength is retained. After 21 days, 40%. Absorption by hydrolysis is complete after ~ 60-90 days.
Tissue reaction: minimal.
It has a high initial tensile strength and excellent knot protection (from tearing)
Designed for stitching soft tissues and / or for applying ligatures, including use in ophthalmology, gynecology and gastroenterology.
Polyglycolide (PGA) - produced in Ukraine; Raw materials supplied from - USA, Europe, Japan
Composition - polyglycolide with a synthetic coating.
The resorption period is medium.
Polyglycolide (PHA) is pyrogen-free, the tissue reaction is minimal. It has a high tensile strength.
Suture material Polyglycolide (PGA) fully complies with ISO standards
Analogs - Vicryl, DEXON II, Polysorb, PGA RESORBA®, SAFIL®, MARLIN®
Equipment:
Threads of various lengths with and without atraumatic needles.
Needles can be (cutting and piercing, combined, straight (length 4mm - 75mm.); Spatula needles of various circles).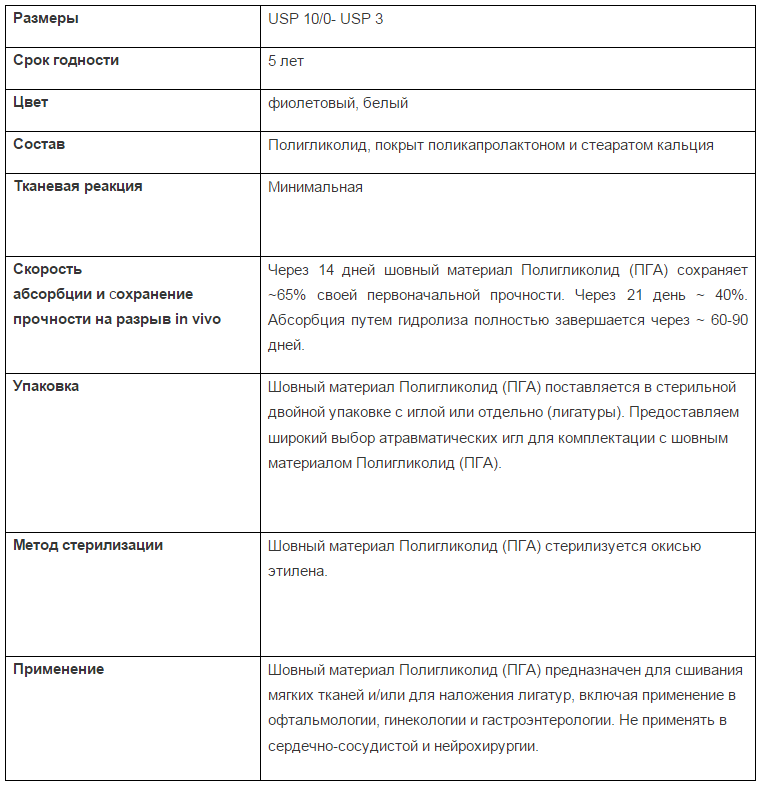 Sizes
USP 10/0- USР 3
Expiration date
5 years
Сolour
Purple
White
Сomposition
polyglycolide coated with polycaprolactone and calcium stearate
Tissue reaction
Minimal
Absorption rate and preservation of tensile strength in vino
After 14 days retains ~ 65% of its original strength.
Sterilization method
Ethylene Oxide Sterilization