NEOSORB - Analogue Vikril Rapida
Other analogues: Vikril, Vikril Rapid, Rapid, Polyglactin 910, Polysorb
(surgical suture material, coating, weaving, self-absorbable, medium absorbable period)Размеры : USР 5/0- USP 1
Shelf life: 5 years.
Color: purple.
Composition: Consists of 90% polyglycolic acid and 10% L-lactide. The coating consists of equal parts of a copolymer of glycolide (30%) and clactide (70%) and calcium stearate.
After 14 days, -60% of the initial strength is retained. Absorption by hydrolysis is complete after ~ 90 days.
Tissue reaction: minimal.
It is used to compare and / or ligate tissues in all areas of surgery, including use in ophthalmology, gynecology and gastroenterology.
Thanks to its smooth coating, gko passes through the fabric.
Neosorb - produced in Ukraine
Raw materials sourced from - Japan, USA, Europe
Neosorb - is a sterile material for suturing, consists of a synthetic material.
Composition - 90% glycolide + 10% L-lactide
The coating composition is a glycolide copolymer, L-lactide, calcium stearate.
The resorption period is medium.
Neosorb suture - meets ISO standards
Is an analogue - Vikrila, Vikril Rapida, Rapida, Polyglactin 910, Polysorb
Neosorb is pyrogen-free, practically does not cause tissue reactions. A super-smooth coating minimizes trauma to surrounding tissues as the thread itself passes through them.
Equipment:
The thread can be any length, both with atraumatic needles, and without them.
Needles can be spatulas of different circles (3/8, 1/2, 1/4, 5/8); 4mm - 75mm straight needles; piercing needles, cutting, combined.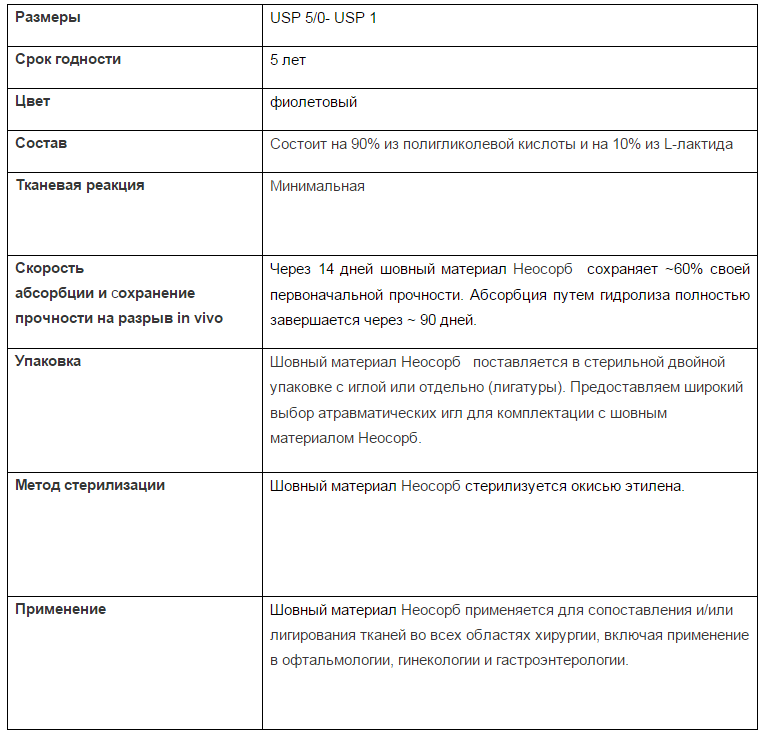 Sizes
USР 5/0- USP 1
Expiration date
5 years
Сolour
Purple
Сomposition
90% polyglycolic acid and 10% L-lactide.
Tissue reaction
Minimal
Sterilization method
Ethylene Oxide Sterilization