MONOFAST - Golnit®
Analogs: Monocryl, POLIGLECAPRONE 25, GLYCOLON, CAPROSYN, MONOSYN, CAPROFYL
Sizes: USP 6 / 0- USP 2/0
Shelf life: 5 years.
Color: Golden.
Composition: a copolymer of glycolide and epsilon-caprolactone.
Residual tensile strength after 7 days - 60-70%, after 14 days - 30-40%. Complete resorption occurs after 90-120 days.
Tissue reaction: minimal.
It has extremely high ductility and a smooth surface. It often acts as a synthetic catgutu substitute.
Designed for approximation and / or joining of soft tissues in places where the use of absorbable suture material is required.
Monofast is made in Ukraine
Raw materials from - USA, Europe, Japan
Monofast suture material meets ISO standards
Monofast is a sterile synthetic self-absorbable suture material. It does not cause allergic reactions, its use, as a rule, is not accompanied by tissue reactions. Monofast is plastic, thanks to the synthetic coating its surface is very smooth, which allows the material to easily pass through the fabric without additional injury. In addition, the material easily adapts to mechanical contractions of living tissues.
Analogs - MONOCRYL, CAPROFYL.
Equipment:
The thread is any long, both with atraumatic needles and without them.
The set may include spatula needles of different circles (3/8, 1/2, 1/4, 5/8); straight needles (4mm - 75mm); piercing needles, cutting, combined.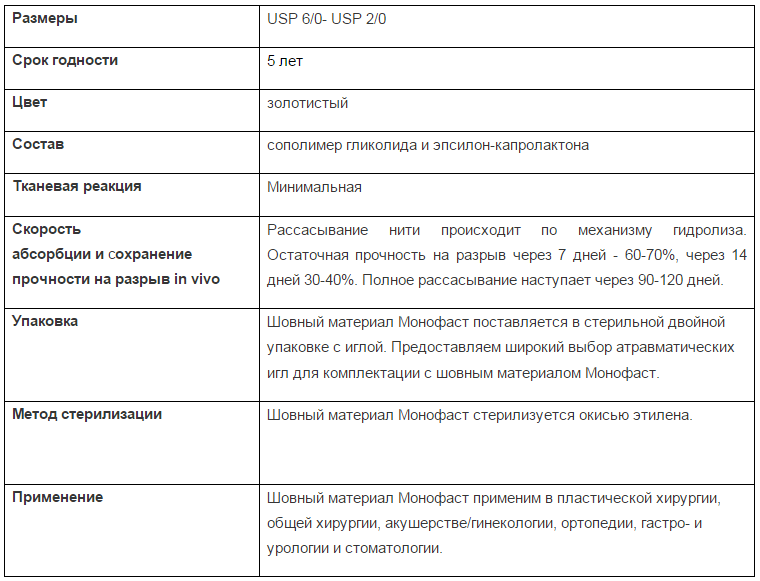 Sizes
USР 6/0- USР 2/0
Expiration date
5 years
Сolour
golden
Сomposition
copolymer of glycolide and epsilon-caprolactone
Tissue reaction
Minimal
Sterilization method
Ethylene Oxide Sterilization